As a person new to affiliate marketing, I had no idea what to expect in terms of the possible costs I would need to make, to get my online business setup. Apart from my training-related costs (I became a member of the SFM/Mentors, whom provide awesome step-by-step training on How to build your online business, Marketing, and pretty much everything else you need to start your business from scratch in no time), I knew I would need some tools as well.
The problem is, which tools to select, as there are literally thousands of tools on the market. Therefore, I'm providing you with a list of the key tools you really need, with my own personal recommendation of the tools I'm using myself and, therefore, strongly recommend for you to use as well.
I've made a few mistakes before and used that knowledge to filter my list down to what I think are the best tools available today. I wouldn't suggest something to you if I didn't use it myself. So these are tools I personally use every day to streamline my online business.
1 – Laptop
Needless to say that you need a laptop to build an online business. That said … I recently got a question from someone asking me if it was possible to build an online business by simply using her smartphone. Well, although not impossible (you can do advertising and sales on Instagram and Facebook), it's very hard to get a website (your business's backbone), email autoresponder (see below) and funnel (including e.g. landing pages) setup without using a computer.
Or a tablet, like the iPad Pro, and preferably with a keyboard and pencil, at the very least. Either way, anyone I know in the field, would consider a laptop as the first prerequisite to start your online business. And, although I personally have a soft spot for Apple devices, it really doesn't have to be a fancy brand. A cheap (300-400 EUR) Windows-based machine or Chromebook will do the same for you.
If you're an Apple fan like me, but on a tight budget, you can always buy a refurbished Macbook laptop with a company like iUsed.eu. But I'll be fair, I've never bought a refurbished laptop before, so I can't vouch for them.
Either way, personally, I love the Macbook Air 13″. The latest version even has a touch button, kinda like the iPhone had (till version 8), so you no longer need to key in your password when unlocking it. It's a beautiful, small, lightweight and very powerful computer, which I take everywhere.
2 – Website
Anyone who's serious about building an online business MUST have their own website. Your website is your virtual display window and shop floor. It represents you as a professional, helps you build brand awareness, helps people to find you, and, unlike any other channels, like Facebook, Instagram, YouTube, TikTok, LinkedIn, Pinterest, nobody can shut you down! And you don't want to know, how many people have had any of their social network accounts shut down, because of a minor mistake, an unknown policy/security violation, or a glitch of the channel's security/AI. Your website will always be there for you.
There are 3 essential parts to getting a website:
i. Domain name
First, you need to purchase a domain name. That's the name or 'URL', people key in on their browser, to find your website on the internet. I'm currently using 2 domain registrars, of which I would only recommend NameCheap. The other one, GoDaddy, is a very well known party as well. However, fellow SFM members have shared some pretty nasty stories about sudden price increases, when renewing their domain registration with them. Therefore, I won't recommend them here.
ii. Website hosting
The second part of having a website is finding a place to host it, or store the files that makeup the website.
I whole-heartedly recommend and endorse Digital Business Lounge – not only is it unlimited, secure website hosting with a very responsive service centre, it's also a ONE STOP WEBSITE SHOP which incorporates and supplies ALL the tools online businesses need these days (e.g. a platform to create unique lead capture pages, a platform to track where all your website visitors are coming from, a tool to create professional 3-D graphical images, a platform to create your business email addresses, etc. etc.).
Click and take a look – you'll love it.
iii. Website builder
My own website (this one!), runs on WordPress. WordPress is now the most widely used website building platform on the internet – it's reportedly used by New York Times, Wall Street Journal, Ford, CNN, Nasa, Pepsi, Nikon, Ebay, Samsung and even 10 Downing Street (the UK prime minister's office/home address).
However, rather than suggesting you to subscribe to WordPress, I'd recommend you to subscribe to the Digital Business Lounge (see under header 'Website hosting'), which even better (!), comes for free with your SFM /Mentors All-In subscription.
3 – E-mail tracking /Autoresponder
The most essential asset you can have in your online business is a list of subscribers, or an email list. Having an email list is THE number one way of building a trusting, lasting relationship with your clients.
Think about it. You REALLY MUST have a way of capturing visitor details when they land on your website, as they're probably only going to visit your site once and you'll never see them again. What's worse is that most people don't buy something the first time they see it. They need to think about it first, of course. It takes on average 5 to 7 times of contacting a customer before they'll actually buy, so having a list where you can repeatedly contact them and add value is vital.
Luckily it doesn't cost a fortune. In fact you can start building your list, using a tool called an 'autoresponder', for free! I use AWeber for my email autoresponder service. They're the industry leader and by far the most popular and best value for money.
AWeber Free gives you access to all the powerfully-simple key features you'll need to build awesome, long-term relationships with your audience of up to 500 subscribers, sending up to 3,000 emails monthly. AWeber include automations, API integrations, unlimited users, and free migration services, just to name a few. Plus, it includes full access to their award-winning, industry-leading Customer Solutions team by phone, email, and chat⏤available 24 hours a day, 7 days a week.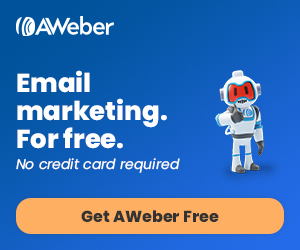 4 – Camera & Microphone
Camera
Probably needless to say, but any online business, and especially those present on social media, simply cannot do without a camera. Fortunately, most of us carry our camera with us pretty much all day long… on our smartphone. Whether the brand is Samsung, Apple or Huawei (whom recently took over 1st place from the aforementioned brand name), they all have a pretty decent camera. Needless to say that, the more expensive your smartphone, the better the camera. You'll find the price increase back in the quality of the phone's camera, or better said, cameras.
Apple's iPhone 11 Pro already has 3 cameras. Why? Well, "taking a picture" is no longer accurately covering what's happening. Today's digital cameras all take multiple pictures, which are, subsequently, digitally creating the "best" picture.
So, in short, I don't think there's a need to buy a specific camera, in addition to your smartphone. Unless, of course, you have a very specific need. And in that case, I presume you can teach me about this, rather than me providing any suggestions to you 😉 Either way, most of us, starting off our online business, can start with the camera on our mobile phone.
Microphone
A microphone, however, may be rather valuable for most of us. Especially, if you're recording videos or podcasts. And, it may sound a bit odd, but bad sound quality is a much bigger issue, than bad video quality. I guess most of us still recall the mediocre quality black and white TVs from our youth 😉 Hence, I'd definitely recommend you to buy a proper, noise /wind cancelling microphone.
Rode is a very decent brand and I've bought both their shotgun microphone and lavalier mic (see pictures on this blog page). You usually don't need both. However, as usual, there's pros and cons for both of them. With the former, you avoid the wires that come with the latter. You can buy the latter with a duo mic as well, in case you intend to record interview-style videos or podcasts.
5 – On- and offline Data Storage
On-Line Storage
Data storage for an online business is key! However, deciding on where to store your data can be quite a challenge, as there are literally thousands of options available. Both free and for a yearly and/or monthly subscription. Therefore, I ended up spending a significant amount of time comparing multiple options against cost, size (for hardware both in terms of data storage and physical proportions), service, flexibility and portability.
Most of us, whether we realize it or not, will likely already use several cloud-based on-line storage solutions. For example, if you're using an iPhone, in all likelihood, you'll have a data storage subscription with Apple, your iCloud. And for iPhone users, that's usually the best thing to do, as all your content (photos, videos, etc.) will automatically be backed up, against a very reasonable cost (starting at 1.99 EUR/month for 50GB). And you don't want to run into a situation, where your iPhone crashes and you lose all your valuable holiday memories or business pictures/videos. However, if we're recording videos, we quickly run out of 50GB and even 200GB.
So, where to go next?
If you use multiple devices, Google Drive is a very good place to start. It's immensely flexible, supports the office tools most of us are used to (i.e. Excel/Word/PowerPoint) with the added benefit of easy file-sharing with others. Plus, you can start storing up to 15GB for free, which -if you don't store your photos and videos- will be sufficient for quite a while. The next step up is 2.99 EUR for 100GB.
iCloud, Dropbox and Google Drive, all have an offer for 2TB at a cost of around 10 EUR/month. And yes, on a yearly basis, that may be a bit more expensive than buying an external hard-disk of the same size. However, the big benefit of storing your data online is, that you've got your backup secured. Plus, it's very flexible, as you can increase your storage or, conversely, unsubscribe at any time.
Off-Line Storage
Personally, I like to keep most of my data under my own control. Plus, when I travel, I don't always have a great internet connection (e.g. France is notoriously bad on that matter in my book). Hence, I always have an external hard-drive at my disposal. I can recommend 2 hard-drives in particular. The one is more of a flexible USB drive. It's the SanDisk iXpand Flash Drive. And apart from a decent size (128GB), it allows me to both cover for the small drive-space on my iPhone (64GB), and to easily transfer data (mostly the videos I shoot) from my iPhone to any desktop. The other is a small and beautifully designed 5TB external hard-disk from quality brand LaCie. Surprisingly enough, it is very competitively priced for its small size and its design, which suits my MacBook perfectly ;).
6 – Password Manager
You will no doubt already have experienced it in your personal life. Every website on which you buy something, every service you subscribe to, whether it's a newspaper, your local utilities company, or your online email service, they all require you to choose a user-ID and password. And we all know, that we best not use the same password for everything. And, even if we want to, some websites simply require you to come up with a password using a specific number of characters, specific types of characters and/or capital and small caps.
So how to keep track of this?
The best and by far the safest way to do this is by installing a password management tool. As a former IT auditor, I've spent quite some time looking for the right one (i.e. the one that's most secure and flexible).
I've been using a tool, called Dashlane, for almost a decade now. And I love it! It has an app for virtually every platform (e.g. iOS, Windows) and can be used on all your devices (i.e. your smartphone, tablet, laptop, desktop) and browsers (e.g. Internet Explorer, Chrome, Edge, Safari). So you only need 1 single password to access all your other passwords.
And they have both a Free version, which allows you to share 50 passwords on 1 device. However, if you're using multiple devices and/or want to store an unlimited number of passwords either personally or for your business, I recommend the Premium version, which costs a few EUR per month.
I'm personally using the Premium Family subscription, which supports the same for my complete family of 5. The premium versions provide additional security features (e.g. VPN/WiFi + Dark Web monitoring). I also use this tool to store my very personal data, like bank account- and credit card information and even my family's passport and social security data. So that should tell you something about the trust they've earned from me since I've started using them.
Compensation Disclaimer – The Fine Print
I recommend products or services that I use in my online business which are provided by other businesses. Most of the time I've used my affiliate links above so will receive compensation if the products or services are sold. Note that the price charged by the vendor is the same, whether purchased via my affiliate link, or whether purchased direct from the vendor's own website.
Products and Services that I own will be clearly marked as my own products. Please assume in most cases, that for any other products or services, I will receive some sort of compensation if you purchase through my link.
I don't make recommendations for products I don't use or believe in myself. I do greatly appreciate any purchases you make based on my recommendations and through my affiliate links and banners. This helps me continue to provide free content to you on my blog and through other means.
For full details please view my affiliate disclosure.